William Southwell Biography: Home Page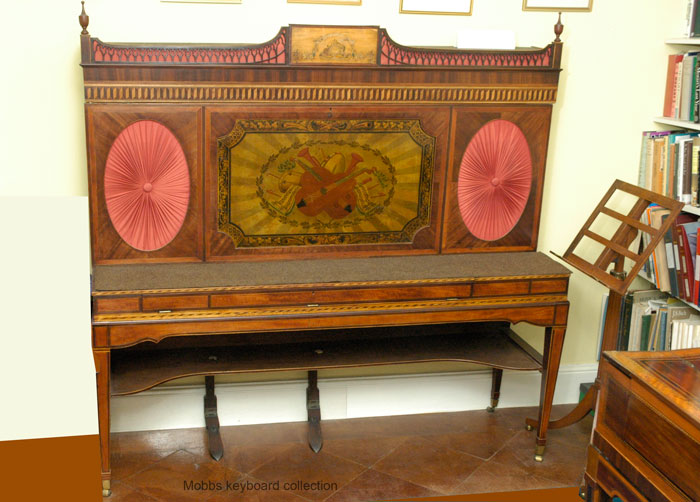 Photograph © Kenneth and Mary Mobbs Collection, reproduced by kind permission of Kenneth Mobbs.
Upright Square Pianoforte ("Camerachord"), No. 59 by William Southwell, Dublin. The instrument is now in
the South Island of New Zealand, part of the Golden Bay Keyboard Collection of Kemp and Helen English.


Welcome to this website, the domain of Dr Margaret Debenham, an Independent Scholar in the UK.
orcid.org/0000-0002-1383-7040
(For further information on her professional background as a researcher in the field of Educational Technology click on the following link to her personal website).
Based on novel findings from contemporary records, the site presents a biographical account of the Anglo–Irish musical instrument maker, William Southwell, active in Dublin in the final decades of the 18th century and in London from 1794. The fascinating story of his inventions and business dealings is set in the context of newly discovered aspects of his extraordinary personal life.

Acknowledged as a creative genius by cognoscenti, Southwell has not however achieved the widespread recognition he undoubtedly deserves. A man ahead of his time, he adopted a modern entrepreneurial approach in a bid to capitalise on his pianoforte inventions. In 1794 he negotiated a deal with the firm of Longman and Broderip, granting them sole rights to manufacture square pianofortes made to his novel patent design in London – a strategy which was to cost him dear, in no small part due to the actions of the manipulative and duplicitous James Longman. Undeterred however, he went on to enter into arrangements with other London manufacturers, including Clementi and Co., George Wilkinson and, in the final years of his life, John Watlen.
The main article (pdf) has been designed to facilitate an exploration of the additional links contained within it at appropriate points in the narrative while the reader is on-line, making use of the browser back button to return to the main text. To access this article follow the link below:
Margaret Debenham (2013). William Southwell (1736/7–1825): Anglo–Irish Musical Instrument Inventor and Maker – an extraordinary life. © Margaret Debenham. William Southwell (1736-1825) Biography 25 July 2013.pdf All rights reserved. Permission is granted to download one copy for the purposes of personal private research only.
(Michael Cole's appraisal of the technical aspects of William Southwell's work and his assessment of the importance of Southwell's inventions, available via the above link on his Square Pianos website, are of particular interest and recommended here as a valuable resource.)
More information on Southwell's difficulties in protecting his 1794 patent rights is to be found in the following publication: George S. Bozarth and Margaret Debenham. 2009. 'Piano Wars: The Legal Machinations of London Pianoforte Makers, 1795 - 1806 in The Royal Musical Association Research Chronicle Vol. 42, Issue 1. London: Royal Musical Association, 45-108. This paper was awarded the American Musical Instrument Society's Frances Densmore prize in 2011.
Visitors to the site with a more personal interest in the family history of the Southwells may like to explore the information on individuals available via the 'Genealogy' menu. In the Victorian era three of William Southwell's grandsons, William Henry, Frederick and Edwin Southwell achieved acclaim as portrait photographers in London. The author's article 'Southwell Brothers Photographers' Royal: History of the Business (1857-1883)' and images of surviving examples of their work (including Queen Victoria and her family) may be found on our linked site Southwell Brothers: Photographers Royal.
Information on additions that have been made to the site since its inception is available here.
*** *** *** *** *** *** *** *** *** *** *** *** *** *** *** *** *** *** *** *** *** *** *** *** *** ***
As of 26 August 2018, e-prints of the following articles are still available for downloading free of charge from the Royal Musical Assocation Research Chronicle website, by kind courtesy of the publishers, Taylor and Francis. To view, follow the blue link in each of the citations below to access the Issue in question and then select the appropriate article from the list of contents there.
Margaret Debenham and Michael Cole, 2013. 'Pioneer Piano Makers in London, 1737–1774: newly discovered documentary sources'(in Royal Musical Association Research Chronicle 2013, Vol. 44, Issue 1. DOI: https://doi.org/10.1080/14723808.2012.761771
and
Margaret Debenham, 2014. 'Joseph Merlin in London, 1760–1803: the Man behind the Mask. New Documentary Sources' (Royal Musical Association Research Chronicle 2014, Vol. 45, Issue 1. DOI: https://doi.org/10.1080/14723808.2014.888175)
*** *** *** *** *** *** *** *** *** *** *** *** *** *** *** *** *** *** *** *** *** *** *** *** *** ***
Reader comments:
Laurence Libin, emeritus curator of musical instruments at The Metropolitan Museum of Art and editor-in-chief of the Grove Dictionary of Musical Instruments for Oxford University Press: 'Thank you for posting the new material, valuable as always. Your work is truly inspiring, a model of clarity and comprehensiveness.' (via e-mail, 20 January 2016)

Norman MacSween, retired diplomat and music historian: 'Meticulous and wide-ranging scholarship, so lucidly organised and presented.'
*** *** *** *** *** *** *** *** *** *** *** *** *** *** *** *** *** *** *** *** *** *** *** *** *** ***
The following article (co-authored with Michael Cole) has now been published on the website of The London Journal as a 'Latest article', in advance of being allocated to a specific issue number during the course of 2018
Margaret Debenham and Michael Cole. 'Marquetry Cabinets containing Newly Fashionable Pianofortes made in Eighteenth–Century London: the cabinet maker's pianoforte – or the pianoforte maker's cabinet?' in The London Journal Vol. 0, Iss. 0, 2018: Routledge, Taylor and Francis Group. Abstract
[Note: In the event that your institutional library does not subscribe to The London Journal, I may be able to help. I have a limited number of complimentary e-prints allocated to me by the publishers to share with interested colleagues who are unable to access the article free of charge via their libraries. For further information, please contact me via the e-mail contact link given on this page.]
It was exciting to learn recently that a semi-grand pianoforte by William Southwell Junior survives in New Zealand. This is the sole extant example of an instrument badged under his own name at his 16, Baker Street address that I have come across in more than twelve years of research. It can be reliably dated between 1851 (the year in which he was awarded a Prize Medal at the Great Exhibition in London) and 1856, when he retired and turned his attention to supporting his three sons in their activities as portrait photographers in London
News Update 26 August 2018
My latest article entitled Thomas Chippendale (1718 - 1779): Musical Instrument Connections and New Insights is now available - see Article 7 on the New Resources page of my personal website for the link to the pdf. copy of the paper (abstract below).
Abstract
Revered as the greatest furniture maker of his age, the name of Thomas Chippendale does not however immediately spring to mind in connection with the manufacture of musical instruments. So, in this the 300th anniversary year of his birth, it was fascinating to discover a newspaper advertisement placed by Chippendale and Rannie in 1758 offering for sale a barrel organ housed within a 'handsome Piece of Furniture' at their shop in St Martin's Lane.

Other newly identified primary source materials relating to Chippendale's life and work include a report of a City of Westminster Coroner's Inquest into a suspicious death, which provides positive identification of four workmen employed in his chair workshop in 1772; and two records relating to his second marriage in 1777 – a Marriage Allegation and Bond, both personally signed by Thomas Chippendale.
*** *** *** *** *** *** *** *** *** *** *** *** *** *** *** *** *** *** *** *** *** *** *** *** *** ***
Thank you for your interest. I hope you will enjoy your visit and we will welcome feedback.
With effect from August 2019: Please use the following contact e-mail address in case of queries:
wscontact 'at' debenham.org.uk
The site is the result of a self-funded 'not for profit' retirement project and if you have found it useful, a donation to one of our favourite charities would be greatly appreciated. As grateful recipients of their care, we support Addenbrooke's Charitable Trust and Papworth Hospital Charity, and each month we will highlight one of them here as our 'Charity of the Month'. This month it is:-
This is one of our suite of websites, selected for archiving by the British Library. Site last updated 18 August 2019