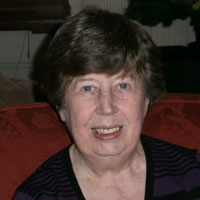 Margaret Debenham
B.A. Hons. (First Class), The Open University, 1990
Ph.D., Institute of Educational Technology, The Open University, 2001
Margaret Debenham's professional background is in the field of educational technology. Her doctoral studies concerned an exploration of certain applications of computer mediated conferencing to support the studies of disabled distance learners in tertiary education. Further information on her personal experience in this field is available on her Biographical Background page.
The full text of her doctoral thesis (2001) in PDF format is available for download via the Open University Open Research Online website
Now retired, as an independent scholar she continues to maintain an interest in exploring innovative uses of Computer Mediated Communication (CMC), with a particular focus on the use of internet based resources as a research tool to locate and obtain historical primary source materials in the Arts and Humanities field. .

Her present research interests concern an exploration of the personal and business histories of a number of 18th - early 19th century keyboard makers. Her publications to date in this field include articles featuring the life and work of William Southwell; of Roger Plenius, Frederick Neubauer and H B Viator (co-authored with Michael Cole); and of Joseph Merlin. See her Historical Musicology pages for more information and her Publications page for full references. 

In addition, her website devoted to a biographical account of William Southwell (1736/7-1825), Anglo-Irish Musical Instrument Inventor and Maker, is now publicly available on-line.
Concurrently Debenham also maintains an active interest in the history of the illustrious Victorian portrait photographers, 'Southwell Brothers, Photographers Royal', direct descendants of William Southwell.
As of 2 May 2017, Taylor and Francis are kindly continuing to offer free on-line access to a number of the 'most read' papers in their series of music journals for a limited period of time, and this includes Debenham's two publications listed below. To take advantage of this offer, follow the links given in the citations to access downloadable e-prints of each paper in PDF format.
Margaret Debenham and Michael Cole, 2013: 'Pioneer Piano Makers in London, 1737–1774: newly discovered documentary sources' in The Royal Musical Association Research Chronicle Vol. 44 Issue 1, Abingdon: Routledge, Taylor and Francis Group, 55-86.
DOI: 10.1080/14723808.2012.761771. [Abstract available on my Publications page]
Margaret Debenham, 2014. 'Joseph Merlin in London, 1760–1803: the Man behind the Mask. New Documentary Sources' in The Royal Musical Association Research Chronicle,
Vol. 45 Issue 1, Abingdon: Routledge, Taylor and Francis Group, 130-163.
DOI: 10.1080/14723808.2014.888175. [Abstract available on my Publications page]
Information about Debenham's presentation enititled 'Frederick Beck, Pianoforte-maker and Christopher Fuhrlohg, Cabinet-maker and Inlayer: newly identified documentary sources' given at the 'Made in London' conference on 28 May 2016 also appears on her Publications page.
This is one of our suite of websites, selected for archiving by the British Library.
Page last updated 2 May 2017.
Copyright © Margaret Debenham 2002 - 2016. All rights reserved. This web site does not use cookies. Contact the