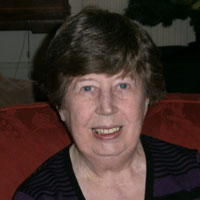 Margaret Debenham
orcid.org/0000-0002-1383-7040
B.A. Hons. (First Class), The Open University, 1990
Ph.D. Institute of Educational Technology, The Open University, Milton Keynes, UK, 2001
Member of The Royal Historical Society (elected 2016)
Member of The Royal Musical Association, The Galpin Society, The British Harpsichord Society, The American Musical Instrument Society (AMIS) and The Furniture History Society
Contact e-mail: md01 'at' debenham.org.uk
Margaret Debenham's professional background is in the field of educational technology. Her doctoral studies concerned an exploration of certain applications of computer mediated conferencing to support the studies of disabled distance learners in tertiary education. Further information on her personal experience in this field is available on her Biographical Background page.
The full text of her doctoral thesis (2001) in PDF format is available for download via the Open University Open Research Online website,
Current research interests
Now retired, as an independent scholar she continues to maintain an interest in exploring innovative uses of Computer Mediated Communication (CMC), with a particular focus on the use of internet based resources as a research tool to locate and obtain historical primary source materials in the Arts and Humanities field.

Her current research interests concern an exploration of the personal and business histories of a number of 18th - early 19th century keyboard and furniture makers. Her publications to date in this field include articles featuring the following influential makers (see her Historical Musicology and Publications page for full references and Abstracts )
In addition, her website presenting an interactive biographical account of William Southwell (1736/7-1825), Anglo-Irish Musical Instrument Inventor and Maker, is publicly available on-line. This site also includes numerous side links to timelines relating to a number of his wide ranging associates, both in Ireland and London, as well as various members of his large family, including his youngest son Charles Southwell, the 19th century freethinker.
Concurrently Debenham also maintains an active interest in the life and work of the illustrious Victorian portrait photographers, 'Southwell Brothers, Photographers Royal', direct descendants of William Southwell. Her biographical article on their business and personal history is available via the following link: http://www.debenham.org.uk/Southwell/download.php
Page last updated: 7 May 2023
Copyright © Margaret Debenham 2002 - 2019. All rights reserved. This web site does not use cookies. Contact the