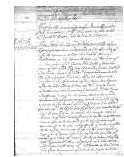 Wills are a valuable resource for the genealogist, most importantly as a means of linking generations together in the face of ambiguity of descent. A Will is often the only way of establishing the names of a testator's family where baptism records are sparse, the parents had common forenames or a family had migrated between villages, situations that frequently occurred in the 18th century and earlier.


Before 1858 Wills in the UK were proved in a wide variety of different courts, mostly ecclesiastical in nature. The records of these courts, called Will Calendars, are now almost all held in county record offices, and knowing the place of death the appropriate record office should be consulted. It is usually possible for a copy of the required Will to be provided for a fee. The British Origins site contains a National Wills Index, which is an ongoing project to place all available Will Calendars on-line. A list of known pre-1858 Debenham Wills is in preparation, and will be published on this website when available.


In 1858 the responsibility for proving Wills was transferred to a central authority called the Principal Probate Registry. Since that date Wills and Letters of Administration have been listed by year of grant of probate, and the lists or indexes are available for public search at First Avenue House, High Holborn. There are also some commercial websites offering a similar service, usually on a pay per view basis.

The UK Court Service administers Probate for England and Wales, and a good description of the system that has been in operation since 1858 can be found on the Court Service website.


Principal Probate Registry index entries relating to persons with the surname "Debenham" have been extracted and recorded in a database. To respect the privacy and security of living persons, and in line with the policy followed by the government for Census returns, only those entries that are 100 or more years old are available via this web site. Limited searches of these entries may be carried out without charge in the on-line archives of the Guild of One-Name Studies. It should be noted that there are no Debenham entries for the years 1858 and 1859.
Copyright © Exors. Michael Debenham 2004 - 2019. All rights reserved. This web site does not use cookies.