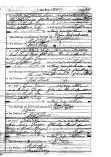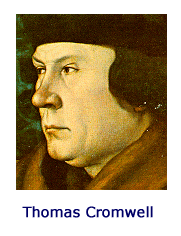 The English Parish Register system was instigated in 1538 by King Henry VIII's minister, Thomas Cromwell. It remained the main registration system for Baptisms, Marriages and Burials for just 300 years until the introduction of the General Registration of Births, Marriages and Deaths in 1837. Since then the Registers have remained in use for church purposes, and can provide information useful to genealogists that may not be found in the General Registration.

The rise of non-conformism meant that many people had no contact with the established church, and this was recognised for registration purposes by granting organisations such as the Quakers the right to keep their own Registers. These records, known as the Non-parochial Registers, were held at the Public Record Office until the opening of the Family Record Centre at Islington. With the closure of this Centre the registers have been transferred to The National Archives. They have been indexed, and much information is available from these registers at BMD Registers.

The lack of any central system for keeping records has been the main obstacle to effective genealogical research, for a given record of a baptism or marriage might have been located in any of thousands of registers located in as many churches. The situation is now greatly improved in so far as the great majority of the surviving registers have been deposited at county record offices and similar archives, but finding the record of a particular event can still involve much tedious searching with no assurance of a result.

Ultimately all the available registers will be indexed as the result of a major project by dedicated amateur genealogists, the FreeREG project. Until this is complete, perhaps in five or ten years time, individual searches will be needed for each parish.

Existing research into the Debenham family ancestry has shown that, prior to about 1750, the family lived almost entirely in Suffolk, while the Debnams were to found in the Warminster area in Wiltshire as well as on the Hertfordshire/Essex border. This will simplify ongoing work. In the meantime some valuable indexing work has already been carried out, particularly in the area of Marriages. Two valuable resources are Boyd's Marriage Index, which covers about 90% of Suffolk parishes, and Pallot's Marriage Index, which is limited primarily to the London area.


This is an index to marriages taken from the Parish Registers and other sources for the period 1538 to 1837. It was mainly the work of a dedicated and enthusiastic genealogist called Percival Boyd during the first half of the 20th century.

While coverage varies greatly across the country, Boyd's Marriage Index is particularly strong in East Anglia, a very fortunate thing for those researching Debenham ancestry!


This index covers the counties of London and Middlesex between 1780 and 1837, and a limited number of locations elsewhere. It is a useful addition to Boyd's index.


There are many other sources of information about marriages in the 17th, 18th and 19th centuries, including Bishop's Transcripts (copies of the registers sent to the diocesan bishop annually), Marriage Licences (issued by various ecclesiatical courts and officials to legitimise proposed marriages), and Marriage Allegations (sworn statements that there is no impediment to a proposed marriage). Many of these survive, and together with the indexes provide valuable information for the genealogist.


Many of the register entries relating to the name Debenham and its variants for the period prior to 1837 have been extracted and included in the following indexes, one each for Baptisms, Marriages and Burials. The name may be spelled in a number of different ways, as literacy was not widespread before the mid-nineteenth century, but each of the spellings included here may be considered to belong to the wider Debenham family group.

The indexes are in the form of Adobe Acrobat files, and you will need the Acrobat Reader software to view and print them. This software is available free for all current operating systems. Click on the button for a link to the Adobe site.



A number of Baptism Register entries have been recorded for Debenham and Debnam families, derived from a wide range of sources and currently amounting to about 1360 names that are presented here as a Baptism Index.
"A Debenham and Debnam Baptism Index"
(1097 Kilobytes) -
Download
All the entries relating to persons with the surname Debenham and Debnam have been extracted from Boyd's Marriage Index (490 names) and Pallot's Marriage Index (85 names), together with a number of marriages from the other sources identified above. These have been combined into a single list involving a significant amount of overlap between sources, currently amounting to about 840 names that are presented here as a Marriage Index.
"A Debenham and Debnam Marriage Index"
(695 Kilobytes) -
Download
A number of Burial Register entries have been recorded for Debenham and Debnam families, derived from a wide range of sources and currently amounting to about 900 names that are presented here as a Burial Index.
"A Debenham and Debnam Burial Index"
(689 Kilobytes) -
Download
Copyright © Exors. Michael Debenham 2004 - 2019. All rights reserved. This web site does not use cookies.