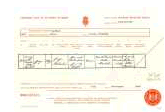 The General Registration of Births, Marriages and Deaths in England, Wales, the Channel Islands and the Isle of Man started in July 1837. The original registers are held by the Register Office for the area concerned, and a copy is sent to the General Register Office at Stockport. Copies of the entries may be obtained in the form of certificates on payment of a fee (currently nine pounds and 25 pence sterling per certificate) to the General Register Office, and may be ordered on-line at the GRO on-line ordering service. They may also be ordered from the local Register Office responsible for the registration, but detailed arrangements may vary between offices.
The registers are completely indexed, and until recently the indexes could be searched in person for no charge at the Family Record Centre in Islington, North London. The Family Record Centre has now closed, and the indexes are available in microfiche format at Birmingham Central Library, Bridgend Reference and Information Library, The British Library, City of Westminster Archives Centre, London Metropolitan Archives, Greater Manchester Record Office and Plymouth Central Library. They are no longer available at The National Archives at Kew. Local indexes are also available at each Register Office, also at many record offices and libraries. Images of the complete index pages up to 2005 for marriages and 2006 for births and deaths may be accessed on-line for a fee at FindMyPast, Ancestry and FamilyRelatives , amongst others.


Index entries relating to persons with the surname "Debenham" and "Debnam" have been extracted and have been recorded in a database. To respect the privacy and security of living persons, and in line with the policy followed by the government for Census returns, only those entries that are 100 or more years old are available via this web site. Limited searches of these entries may be carried out without charge in the on-line archives of the Guild of One-Name Studies.
Search
for
Birth
entries from 1837 to 1910.
Search
for
Marriage
entries from 1837 to 1910.
Search
for
Death
entries from 1837 to 1910.
Copyright © Exors. Michael Debenham 2004 - 2019. All rights reserved. This web site does not use cookies.