Frederick Southwell Cripps (1855–1941)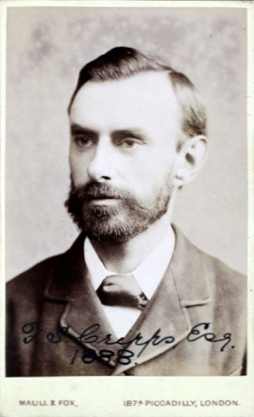 Frederick Southwell Cripps
1
Frederick Southwell Cripps was a grandson of
Frances Cripps, nee Southwell
(1799–1886), and great grandson of William Southwell (1736/7–1825). Born in Worthing, the eldest son of Frederick Cripps (son of Frances), a tailor, he became a noted civil engineer of his day and an author of several influential papers with many patents in the field of gas and water engineering to his name (the author has located 14). An obituary published in the
Sussex Daily News
on 21 April 1941, summarises his career.
FAMOUS BUILDER OF GASHOLDERS
Death at Worthing – Mr F S Cripps, A.M.Inst.C.E.
A distinguished son of Worthing passed away at his home on Saturday. He was Mr Frederick Southwell Cripps, A.M.Inst.C.E., of 2 Oxford Road; his death occurred at the age of 85 years.
Born at Worthing in 1855 he rose to eminence in his profession as consulting engineer to gas and water companies. He was an authority on the construction of gasholders and his book "Guide framing of gas holders" became a standard work and was translated into Dutch at the request of the authorities in Holland. Another of his important papers was "An investigation into the strains upon the top curb of a gasholder" and this was incorporated in the volume "Transactions of the gas institute 1882". Mr Cripps was educated in private schools (day and boarding) at Worthing, Greenwich and Lancing.
With slight commercial training and private study he then left Worthing to become a pupil to Messrs J and A Blythe, marine and general engineering, London in October 1873. He passed through shops and offices, spending all his spare time in the study of engineering sciences. After leaving Messrs. Blythe he entered Messrs. Cutlers drawing office for a little more than 12 months, and from there entered the city offices of Messrs C and W Walkers, the well known firm of gas engineers. Shortly afterwards he went to their works at Donnington near Newport, Shropshire and remained till 1879 when he passed a short term in the Sutton gas works. He was induced to start on his own account as a consulting engineer to gas companies in 1880 and acquired offices in Westminster.
Mr Cripps built the largest gasholder of its time in the world and 30 years ago as consulting engineer to the Bournemouth Gas Co. he built what was up to then the cheapest gasholder in the world, the cost was £5 per cubic foot. He was also consulting engineer to the Bournemouth Corporation and provided the town with its water supply from Wimbourne.
Mr Cripps was one of a brilliant family of brothers, and when he was carrying out work at Bournemouth two other brothers were also there in important positions. One was the late Mr Richard A Cripps who died at Hove a couple of years ago and the other was Mr Frank R Cripps who now lives in High Salvington, Worthing. The former was the Borough public analyst to the Bournemouth Corporation and the latter engineer at the Poole electric works. Mr Richard Cripps will be recalled as in the profession of an analytical chemist of Hove. They were the sons of the late Mr Frederick Cripps who had businesses in South Street Worthing and was interested in much property in the town. The family moved to Worthing from Brighton. Mr F S Cripps retired from his profession in 1914 and died a bachelor.
[Our thanks to David Cripps for providing this information and for drawing our attention to the photograph.]
---